Step 1
Identify the business objectives
The business objectives defined by the client manager will be analyzed and explain how digital marketing can achieve the goals. Determining what is achievable and what is not possible is the crucial part of our engagement.
Our team will work with the business stakeholder to finalize how digital marketing can help achieve the business objectives.
Step 2
Set Measurable KPIs
The second step is to translate the mutually agreeable target to measurable KPI's. This exercise may be a continuous process, and it is essential not to put an unrealistic goal. It often creates frictions in the engagement.
The KPIs are usually set up in Web Analytics and reporting platforms. In most cases, it would be in Google Analytics or Adobe Analytics and reporting platforms such as Google Data Studio or Tableau.
There may be additional time required to set this KPIs in Web Analytics, and it is unless stated is an exercise done by our data analytics experts.

Step 3
Learn from the past
Digital Marketing does not have a general black-box strategy. You need to test and experiment your approach. It is essential to understand the mistakes and lessons worked in the past. Whether we work with an existing client or a new client, we try to explore the history by analyzing web analytics, paid campaigns, media plans, content strategy, etc.
Our team conducts semi-structured interviews with client stakeholders to understand the strategy that worked and things didn't work.
Step 4
Develop personas and tone of voice
Start with the basics and note down all the demographic information you know about your target consumer – like age, gender and location. Identify the problems the target customer are facing that your products can solve. Craft your messaging strategy based on individual personas. It is important to test multiple messaging that would resonate with their need.
The tone of voice would encapsulate the micro-moments of the entire purchase journey.
Step 5
Map out purchase journey and tactics
There are numerous digital channels that your target audience might be interacting. Many channels may be contributing factors to the final decision-making process. It is mostly called micro-moments which will be contributing positively or negatively during the entire digital journey.
The tactical plans are decided based on micro-moments identified. The search may be contributing at the top of the funnel, while a review may be helping the prospective buyer to reiterate your brand. A discount or an email may be finally contributing to the final purchase.  
Step 6
Make the plan based on the budget
A calendar is an important part of our execution. We identify and outline a plan which we would stick to, but would be revised based on first two months performance. The calendar plan comprises of tactics and execution times, review dates, monitoring plan, etc.

There is no perfect plan you can make in the beginning, so we review and revise plans periodically to achieve the goals identified. Digital marketing is a test-driven plan, and agencies like us would test and change quickly to make desired results.

Repeat steps 3 – 6 until the strategy is working effectively and yield desired results. It is crucial to understand many organic tactics may take time, so our micro-KPIs are going to be used to measure the success path.
No long-term contract
Unlike other agencies, we don't ask you to sign for a six months contract or a 12 months contract. We consider long-term deal does not give the flexibility to the client without even knowing each other. Our services are so transparent and working directly with client on a daily, and weekly basis allows the client to understand our commitment to achieving business objectives. We usually do a month on month contract instead of six months or a 12-month plan. It gives flexibility for the client to fire us if we cannot deliver.
Analyze us and fire us
Our account managers and the team would be continuously interacting your team on a weekly basis to align the marketing execution. If you think our team is not delivering, then fire us.
What Our Clients
Have to Say:
I have been working with the Ayruz Team for almost three years. It's an extremely dedicated team with an unmatched work ethic and strategic thinking. They understand the changing business needs and are nimble to adjust tactics while being loyal to the strategic long term direction established early on. Team members have their unique skill sets, and they coordinate well with each other behind the scenes without taking unnecessary time from myself or my other team members. Under their guidance and support, we have moved the business from unprofitable to profitable cost of customer acquisition, which is now positioning the Nuvanna for profitable growth.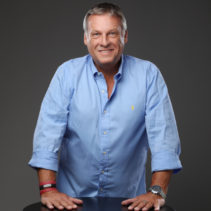 I have been working with Ayruz Data marketing since 2013 for various projects in digital marketing and other analytics projects, the latest being POWA index. Sanil & his team have always provided first class service and most importantly are able to grasp concepts and understand our business quickly and act accordingly. Key to our ongoing relationship with Ayruz is their focus on bringing the best industry talents to the team, and the trust they demonstrate makes them the ideal partner.
Ayruz instantly became the full-service agency of M2ALL within the span of three months. We have engaged over six agencies in the past, but Ayruz was best in the industry.
Ayruz has been our long-standing partner in Digital Marketing and Analytics services. The timely delivery, outstanding service quality and deep understanding of the subject is something that standout with others.
Ayruz has helped us implement Google Tag Manager to some of our large e-commerce, consumer electronics and retail customers in the UK, Europe and in the USA. The team also has an in-depth understanding of Google Analytics.
Ayruz has been our analytics and digital marketing partner of over five years managing our large digital spend and analytics. They have strong knowledge in Google Tag Manager, Adwords, Facebook Business Manager and Google Analytics.