Ayruz - The HubSpot Agency Partner for your needs!
Drumrolls…!!!!
We have exciting news to share, to help our trusted clients and partners scale new heights, and grow with the help of Inbound Marketing, we have partnered with HubSpot as a certified agency partner.
For those who have never heard of HubSpot before, it is a leading growth platform that strives to assist businesses to scale new heights with the help of Inbound Marketing, Marketing Automation, and specific tools that will help you to serve their clients better and convert them into brand advocates.

HubSpot will be a good fit for those businesses who are exploring ways to expand their revenue using a comprehensive set of tools that cover everything from marketing, sales, service, and also enable you to track ROI and customer happiness.
Inbound Marketing for Growth
Now, you must have noticed we've been repeating the term 'Inbound' twice already on this page, are you wondering what is inbound? What is Inbound Marketing? Don't worry, we're here to clear that as well..
Well, Inbound Marketing is a digital marketing strategy that essentially attracts leads and buyers to your company when they're looking for solutions, rather than competing for their attention.
Inbound marketing is a digital marketing strategy that organically attracts leads and buyers to your company when they're looking for solutions, rather than competing for their attention which means Inbound marketing focuses on creating quality content that pulls people into your business and brand.
Inbound Marketing has three different stages, such as Attract, Engage & Delight. Each stage and the various tools associated with them are shown below.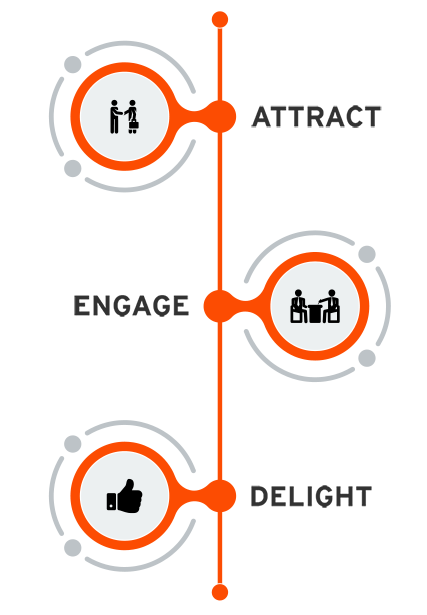 Attract
Attracting prospects with quality content can be termed as the first step in the inbound marketing methodology. At this initial marketing stage, the prospect is provided with compelling content that answers the questions they might have.
Some of the tools with which you can attract prospective customers to your business are given below:
Content Strategy
The most effective method for attracting the right people is to increase your online presence and having a solid content strategy is a crucial factor in that…more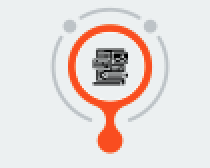 Blogging
Blogging is an important facet in inbound marketing and the best way to attract visitors to your content. By regularly publishing blogs on the types of…more
Social Media
Building a community of your customers, prospective customers in social media portals such as Facebook, Instagram, Twitter, LinkedIn, always helps to…more
Engage
Once you attract the right visitors to the site, the next important goal for you to achieve would be to engage with them and ensure you're able to convert them into a lead and gradually a customer. In order to achieve the same, tools like Forms, ChatBots, Email Marketing with Proper Call to Action & Marketing Automation can be used. Once a prospect becomes a lead, the sales team can continue to engage with them with the help of meetings, telephonic conversations, email follow-ups, etc.
Email Marketing
Email newsletters are a wonderful way to build a long-lasting relationship with your prospects and customers. You can provide your readers with all...read more
Marketing Automation
Just like Inbound Marketing, Marketing Automation is a buzzword that you must've heard across various instances earlier. In simple words, it can be referred to as a…read more
Lead Nurturing
Whenever a lead is generated, it is crucial for nurturing each of them according to their interest and life cycle stage. Messaging should be adapted through different…read more
Lead Scoring
Using the Predictive Lead Scoring tool from Hubspot, you can help your sales teams to be more efficient with the leads. It uses factors like an audience …read more
Analytics
With the help of analytics tools linked to your websites, such as Google Analytics or HubSpot Analytics, you can keep a close watch on the type of content…read more
Converting leads to your customer should not be your final goal. It should be to delight them with your service and convert them into brand advocates so that they bring in more customers to you.
You can delight your customers in various ways, such as providing referral bonuses, special offers on return purchases, sending out customer surveys in return in exchange for discount coupons, all these can be executed with the help of tools such as Email Marketing, Social Media posts, etc. You can also thank your most valued customers with a special mention in the social portals and tagging them online.
Different Modules in HubSpot
HubSpot mainly consists of three different modules that are tied up to a common CRM tool that is hosted within itself. The three modules are HubSpot Marketing Hub, HubSpot Sales Hub, and HubSpot Service Hub. As the name indicates these modules cater to the Marketing Team, Sales Team, and Customer Service Team in your organization respectively. Let us have a deeper understanding of each module next.
HubSpot CRM
HubSpot CRM can be termed as the heart of Hub Spot, it is where all the information about every contact associated with the account is present. You can see the associated contact, the company associated with that contact, where they're in the leads pipeline, all recent communication you had with them, and a wide range of other offerings. HubSpot operates in a Freemium model and the CRM is available for free with many significant features that will help you do your business operations with ease.
HubSpot Marketing Hub
HubSpot Marketing Hub contains all the tools you need to run a marketing campaign that attracts, engages, and delights both potential and current customers. It will help you create compelling content, get it in front of the right people, and convert visitors into leads and leads into customers. Options available in HubSpot Marketing Hub are Landing pages, Emails, Blogs, Social media, SEO, Marketing automation, Analytics
https://www.hubspot.com/products/marketing
HubSpot Sales Hub
You can manage, track and communicate with your leads with the help of HubSpot Sales Hub. With more visibility into the pipeline, your sales team is empowered to interact with customers without spending countless hours entering data, or writing the same emails time and time again. Options available in HubSpot Sales Hub are Email Sequences, Email Templates, Email Tracking, Email Scheduling, Documents, Meetings, Live Chat, Calling, Sales Automation, Reporting, Predictive Lead Scoring, Salesforce Integration.
https://www.hubspot.com/products/sales
HubSpot Service Hub
HubSpot Service Hub helps you to serve your customers effortlessly and continue delighting them and ensuring long term relationships. Various options available with HubSpot Service Hub are Conversations, Tickets, Feedback, Automation & Routing, Knowledge Base, Team Email, Live Chat, Conversational Bots, Reporting and Goals
https://www.hubspot.com/products/service
Be Inbound to Growth with Ayruz:
We can identify possibilities where Inbound Marketing can be used to promote website…more
HubSpot Onboarding Partner
Once we are also convinced that you need HubSpot for achieving your business goals…more
Inbound Marketing
We can identify possibilities where Inbound Marketing can be used to promote website…more
Lead Generation
We can do a comprehensive audit of the existing
lead generation mechanism and develop a…more
Lead Nurturing
Once the buyer persona is properly mapped and they're enrolled as a lead, Ayruz can help….more
Marketing Automation
Once we have a clear understanding of your business process, we can identify…more
What are we outside of HubSpot
On this page, so far, we've been repeating a single mantra, HubSpot, Hubspot…Please don't think that we're only good at HubSpot. We also offer a wide range of services outside HubSpot, such as :

you can read more about the services in the respective service pages.
We are also partners of various premier
technology and agency councils such as:
We can identify possibilities where Inbound Marketing can be used to promote website…more




Our Clients
A few clients with whom we were able to engage on various projects:
Call To Action
Want to figure out how we can assist you in making a decision about HubSpot or Marketing Automation? Feel free to schedule a call now!
Schedule a call now
PROVIDE US WITH YOUR CONTACT DETAILS, AND WE WILL CONTACT YOU TODAY.