The need for consumer engagement & loyalty campaigns
Customer engagement and loyalty programs are not new and have been an age-old global phenomenon in industries varying from finance to automobile and retail to travel. Through loyalty programs, brands establish meaningful one-on-one relationships with their customers and enhance the value being provided to them.
From time to time, the brands must ensure that their vision is in sync with the customer's requirements. Only then can the brands be sure they will be capable of scaling more heights.
Among various industries that face the consumer, FMCG brands, in particular, face the challenge of establishing a direct relationship with the customers as they lack Point-of-Sales systems and rely on multiple retail outlets for sales. As a result, FMCG brands are compelled to increase their marketing activities to sell their products in a grueling competitive environment with limited customer access.
Maintaining a retailer relationship to garner the customer data required for the company's databases and CRM is also expensive.
Challenges faced in making consumer engagement campaigns successful
There are various ways for an FMCG company to interact with their customers, such as:
Making use of conventional mediums such as print/TV.
Use social media channels such as Facebook & Instagram.
Put up marketing collaterals at the physical stores with proper CTA.
However, brands often fail to build a sustaining relationship with their customers because the customer has to go through various levels of hierarchy (or steps if it is a digital interaction) before speaking with a brand representative. The same goes for the brands to interact with the consumer as well. Therefore, whenever a brand is planning to conduct a consumer engagement campaign, it'd be best if they keep in mind five important tips for running such campaigns.
One most important tip to keep in mind would be to make sure that the steps for participating are as simple as possible! If the engagement campaign has many steps the consumer must complete, there is a high chance of stopping midway.
Enhancing the packaging to help the consumer
What if there is a way to give your valuable customers a more straightforward mechanism to interact with their favorite brand (you)? The simplest way would be to enhance your product's packaging. Brands have already started working in this direction by placing simple QR codes in their product packaging and running special promotions.
Pepsi & Money Heist
If you didn't live under a rock, you should have certainly seen the hype that was surrounding the campaign that was conducted by Pepsi & Netflix for celebrating the finale of Money Heist. Very special unique QR codes were printed in the limited-edition golden cans & packs that gave out virtual tickets to the consumers who scanned them.
The promo film that was aired surrounding the campaign had scaled new heights by garnering over 2.4 million views on MX Player, 3.3 million views on YouTube, and 3.4 million views on Twitter within just 24 hours.
QR driven consumer engagement campaigns by Nandini GoodLife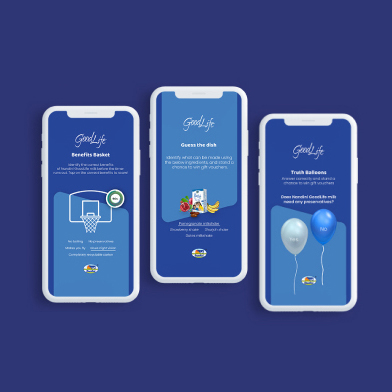 Another notable campaign that was executed by enhancing the product packaging would be the series of brand awareness and engagement-oriented campaigns that Nandini GoodLife, in association with Ayruz and Tetra Pak India are running. With the help of unique QR codes developed using dynaQR, Ayruz was able to supply over 100+ million QR codes to enhance the Tetra Pak packaging and executed the end to end campaign that saw more than 300,000 scans from loyal consumers, 47% of those who scanned at least twice.
Why connected packaging?
Is it just consumer engagement or loyalty campaigns that are possible by enhancing your packaging? Not exactly. In August 11, 2021, European Medicines Agency endorsed recommendations that were developed by the International Coalition of Medicines Regulatory Authorities (ICMRA) for facilitating usage of track and trace systems at the global level. As per EMA, the track and trace systems are a useful tool for mitigating the risk of medicine shortages and to fight the production and marketing of falsified medicines.
We're discussing more pointers on the need to enhance the product packaging through QR codes in our free whitepaper, "Building customer engagement, loyalty & trust through digitization" which is available here.